So I'm a bagel fan. I'm not going to say I eat them every day, but I probably eat more than five a week. I really love this simple jewish culinary product. Such a simple product with so many possibilities. You can have it for breakfast, lunch, quick snack and dinner. It's full of possibilities.
So this Saturday afternoon I had lunch at Murray's bagels. Simple everything whole wheat bagel with pastrami, nothing else.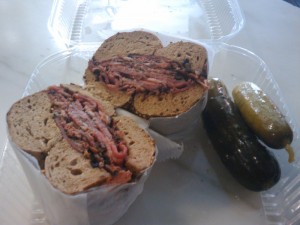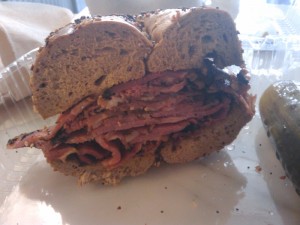 The bagel was not very shinny, probably because of the poppy and sesame seeds among other things, but it was perfectly dense and chewy. It was also puffy and not sweet which is how I like my bagels.
Murray's is located in Avenue of the Americas 500, next to 13 St. It is a little bit expensive, but I think the bagels are worth every penny. I had to wait around twenty minutes to order and there is not a lot of space or tables availble. However, the ambiance is very nice. There are also chairs on the outside to sit down and enjoy on the summer day. You really get the feeling you are in a original New York joint, not in a McDonald's where everything is like copy/paste.