So Spain makes it to the front page of the New York Times and the Wall Street Journal. It's a consequence of winning the Football World Cup. Guess the only thing left to say is congratulations.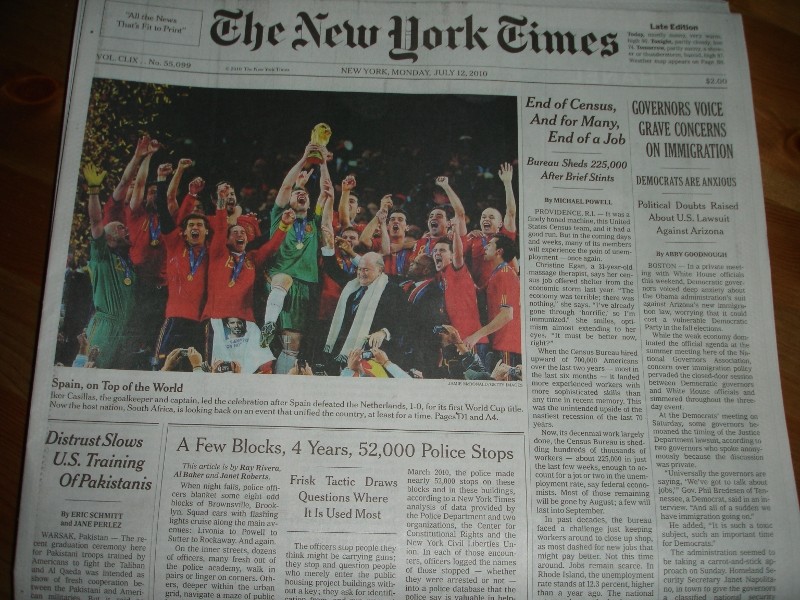 I personally liked the football they made. For me the critical match was the one against Germany. Watching how the germans defeated "the boludos" was scary. At that moment for me Germany was a clear candidate for the World Cup. But Spain made a hell of a game against the germans. They kept the ball and gave almost no opportunities for the germans to score.
I was also afraid before the beginning of the final. The game hadn't even started and Spain was already champion. Sounded to me like Maracanazo or Centenariazo.
The referee was pitiful. De Jong should have been off the pitch after the kick he gave to Xavi Alonso. Looks like the dutch were not willing to deploy total football, but more total karate. It was the referees responsibility to stop this and it was quite clear he didn't.
I would like to mention the coach Vicente del Bosque. I feel amazed at how he keeps a low profile. He looks like the same person whether he wins, loses or ties. Looks like nothing moves him, always has the right word, not a bad word about the rivals. I wouldn't say he is politically correct, but really humble. We all should learn a little from him.
Twenty per cent unemployment, a old job market, a fiscal deficit of around ten per cent, a failed economic model among other things are the problems the Spanish state faces. Really tough problems, no doubt about it. Let the spaniards celebrate today. They are already facing really tough problems. They needed something to cheer them up.